Friday, January 9th, 2009
The bite was on in NC so my dad and I decided to make the 11 hour drive down to meet NCSHARKER and Justin Stewart. By the time we left at 4 am on friday morning i already had 7 hours of driving under my belt. We met up with NCSHARKER, had a great dinner courtesy of NCsharkbabe and set off to the spot. When we arrived, the surf was angry with heavy cresting waves but the water definitely looked fishy. We made the call to set up and get some rods out. We fished some bait rods for something fresh but it wasnt in the cards. I kayaked one rod, it was out for less than 20 minutes when something started picking at my bait, i hadnt even noticed but NCSHARKER made the call, "He's got it! Thats him!" Sure enough the bite got stronger and the line slacked up. I pick up my rod, lock it down and stick him. FISH ON! I work the fish into the first gut and then he charges the beach, i couldnt catch up and the fish came to the surface thrashed and spit the hook. It was definitely a big Sand Tiger because of the bull dogish fight and brutal headshakes. Conditions continued to get worse with heavy winds and approaching showers, we made the call the get some shut eye.
We have video of every fish we hooked into that will be posted as soon as it is edited.
The next morning, we got rained out, and right as we finished packing it in, the sky started to clear.  We headed off the sand had some breakfast and met up with Justin Stewart to discuss the game plan. Ended up going back to the spot and setting up.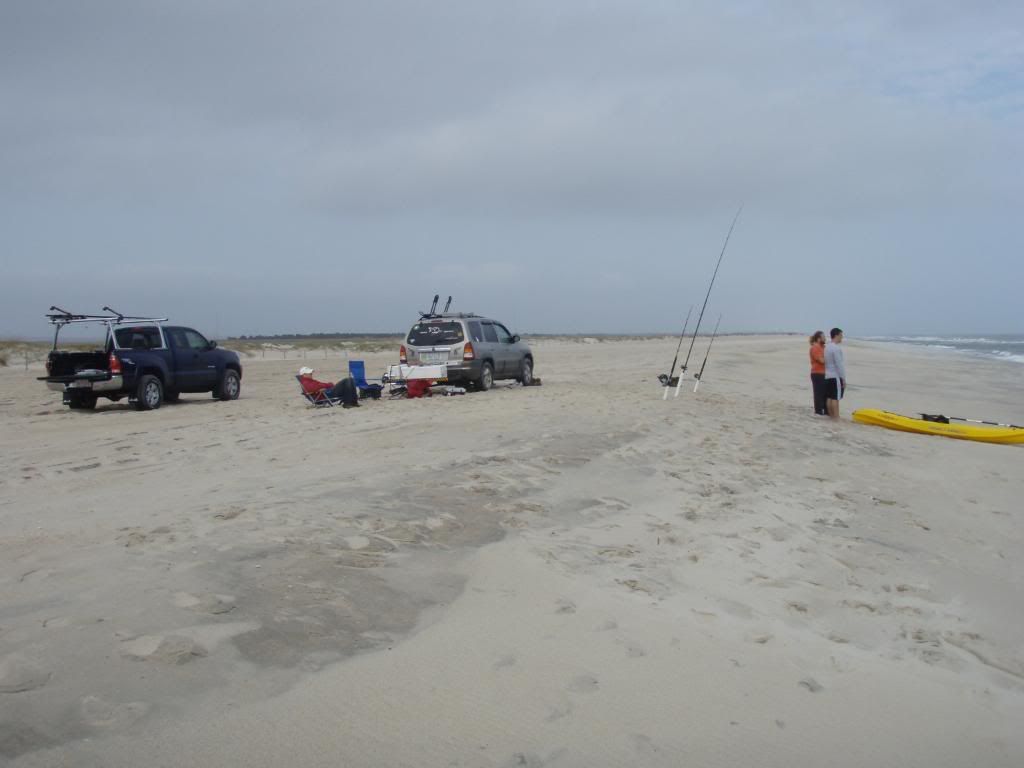 Yaking the baits

Kayaked out the rods and let them sit. The rough surf limited the amount of rods but right after i got done kayaking, still in wet clothes, i ran over to my 14/0 because it started bouncing. This time i stuck the hook good and after a nice fight we beached this 7'4″ Sand Tiger. We worked great together getting the fish back into the water, it felt like we had been fishing together a long time.
Justin Stewart, Myself, NCSHARKER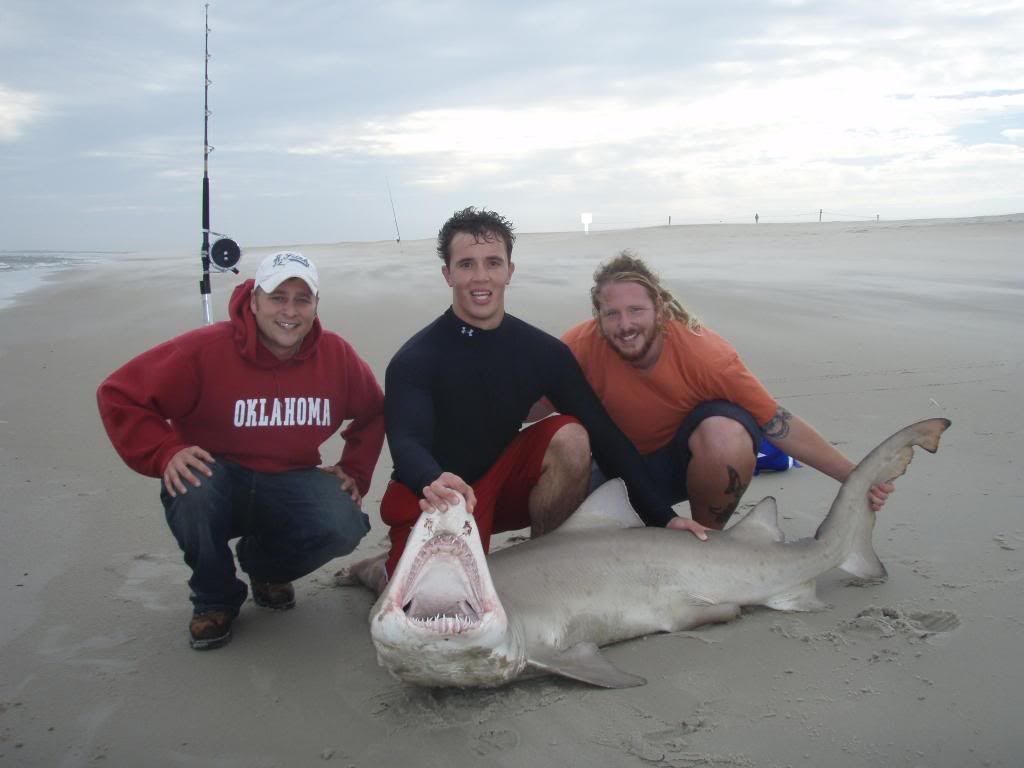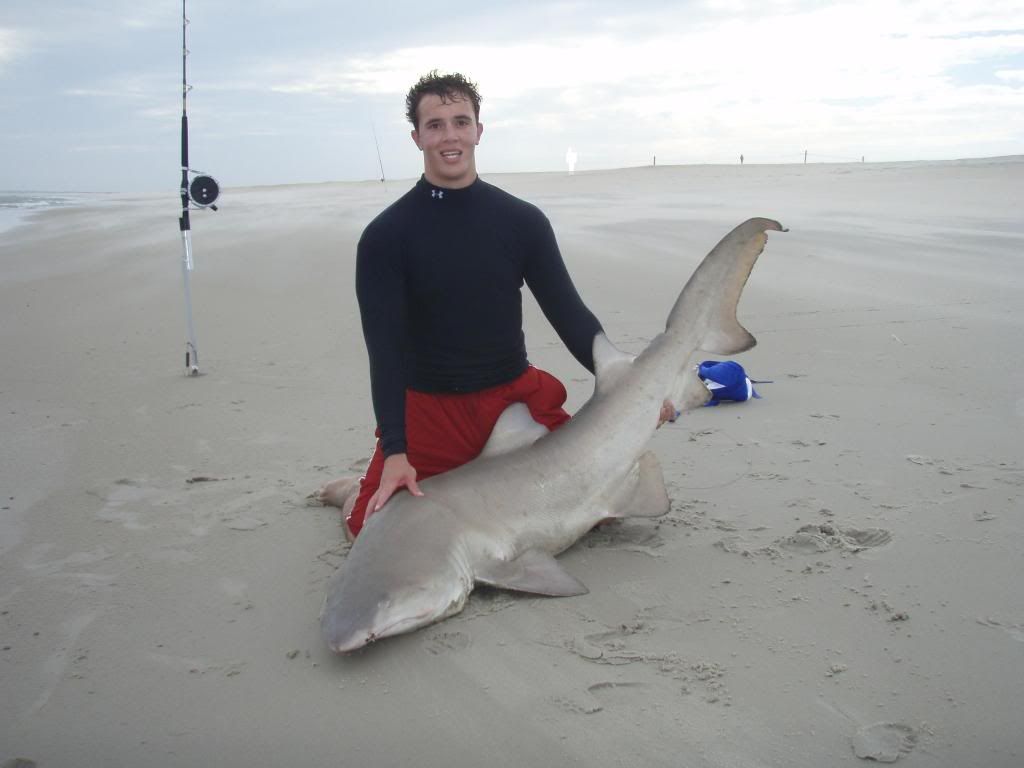 Me and my dad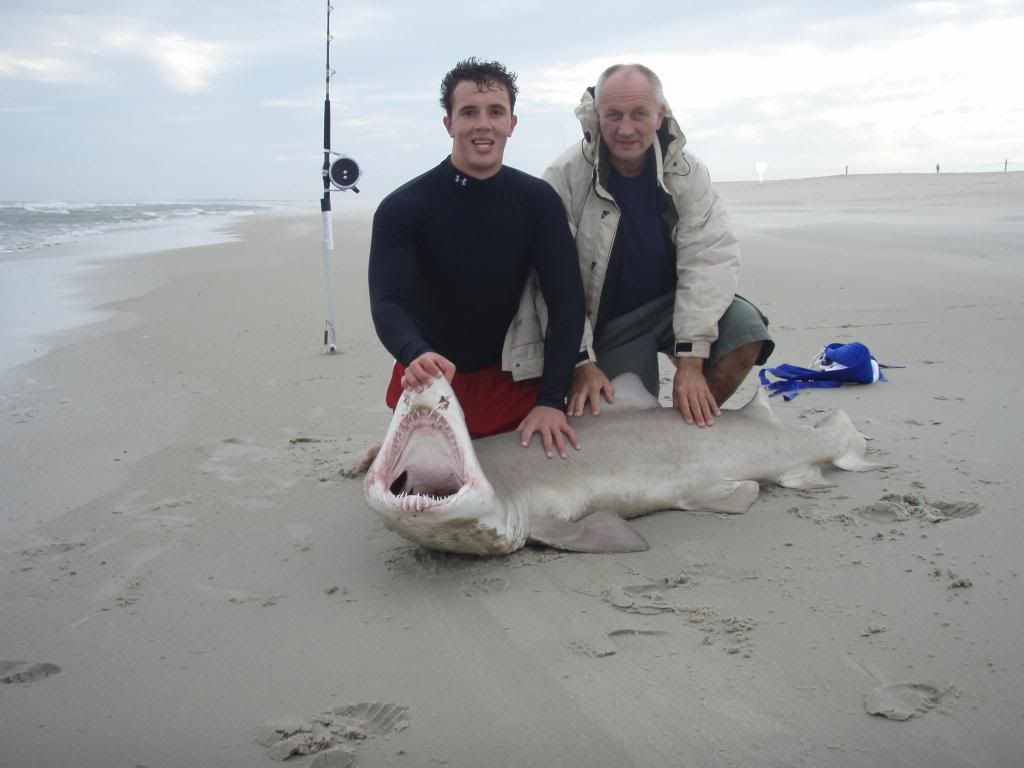 Release

NCSHARKER's 12/0 starts screaming and he sets up but drops the fish soon after. It was a good one but hey that just shows how thick the fish were. Shortly after, NCSHARKER's 6/0 starts rolling hard. He sets up and we know right away this was going to be a very big fish. Massive head shakes and strong runs had us walking down the beach after the fish. The fish refused to come over the bar, NCSHARKER played it just right and didnt force it. The water was low and the bar was shallow but the fish ended up coming into the first gut and we saw the massive Sand Tiger. It took two of us just to drag her a little out of the water. The girth on this fish was huge and the jaws were incredible. We quickly got her back in the water. She measured 9ft on the mark. What a beautiful fish.

We rebaited some rods and sent them back out through the huge surf. Not long after, Justin's 9/0 starts bouncing and he sets up on a fish. Seconds later, my 14/0 starts going off and my dad starts fighting a nice fish. So now we have a double header within 20 minutes of the baits being dropped. If it wasnt for the rough conditions, we could have bailed these fish all day. Justin gets his fish in to the wash first and my dad follows soon after. We leader both fish and put them on the beach. My dads fish measured at 7'8″ but was hulking compared to the fish i had landed. It just shows how much 4 inches can do to a healthy fish. The double was awesome to say the least.


My dad and Justin with their double header fish.

The sharks had the feed bag on big time but It started getting a little dark and the wind was only picking up. Gusts were going at 35mph and conditions became unfishable. We called it and decided to get a good nights sleep so we could start early the next day. I'm glad we fought through the tough conditions as we were rewarded with 4 nice fish with each of us getting one. You really really cant beat that. Not to mention all the great conversation we had all day. I couldnt have been happier but we did have high hopes for sunday morning as the wind was going to die down but a cold front was coming through hard at night.
We woke up the next day with temps in the 40s with the high for the day supposed to be in the mid to high 50s. We got out to the beach early and NCSHARKER took out 3 rods in the cold temps. It was intense. Soon after, Justin shows up and we continue setting up. We try and fish for some bait my dad and i both score on some fresh bait. There was a ton of bait forming a 100yard wide band of bait stretching down the beach. the pelicans were having a ball dive bombing left and right. We all rigged up more rods and formed a spread of 2 6/0s, 2 9/0s, 2 12/0s, and my 14/0.
The surf was calm….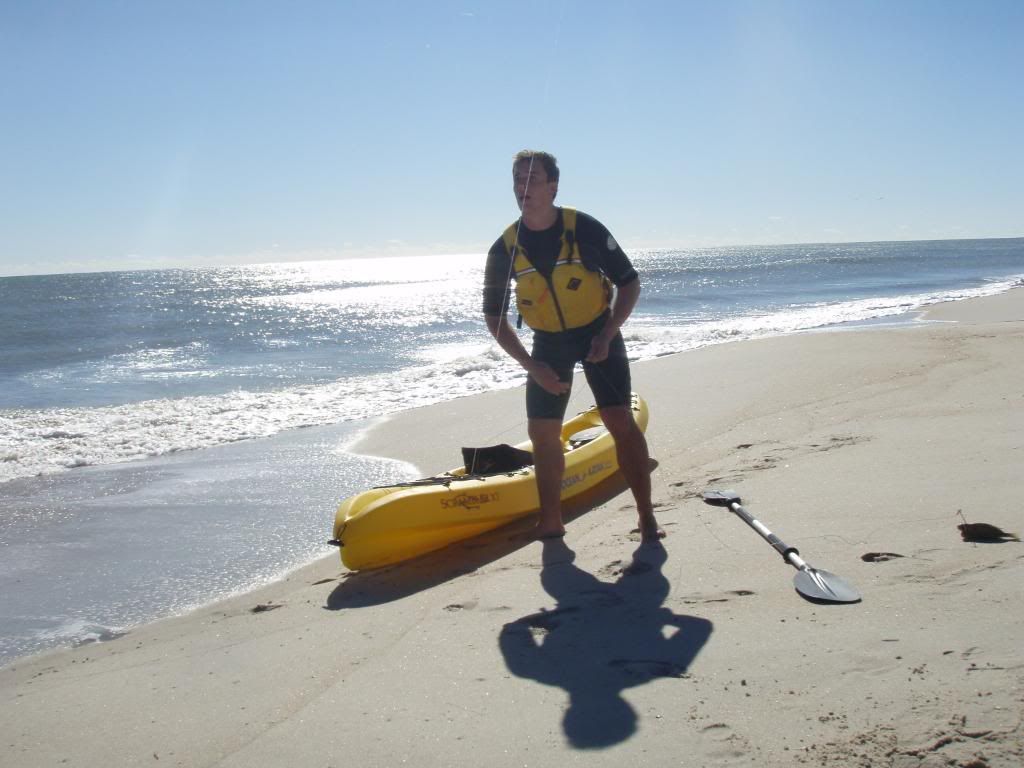 We sit around patiently waiting for something to happen. My dad and i just had a great time hanging out with you guys and then it happened. Justin's 12 bounces, slacks and then starts rolling hard. He gives the fish line and sets up hard on the fish, and then hits it again. The second time around he got spun around and the fight was really on. The fish came to the surface and it was a MONSTER. Justin and I saw it right past the bar! The fish went under and started tugging hard. Justins rod was under a ton of pressure and then the hook pulled. Heart break…he need to take a seat after that one. Seeing his reaction and how hard he took it just shows how passionate he really is about sharking. That goes for both of those guys, they are pretty hard core fisherman that really love what they are doing.
About 10 minutes after Justin was hooked up, my 14/0 bounces and slacks then comes tight and rolls a little. I hop on the rod and video starts rolling. The fish plays with the bait and so i just let it do its thing. I put the rod back in the holder and and take a seat, a minute or so later, the drag starts going off and the fish has made up its mind, i pick up the rod let the fish eat the bait and set up good. I feel good weight on the other end and try my best to stay tight. I work the fish in with a tight drag until it gets closer to the the bar and then it takes off a few times. Im all harnessed up and im leaning into the fish hard. Finally it gets over the bar and in between waves, i see a fin, but its different than the ones we had been seeing. I knew right away it wasnt a sand tiger. The anticipation builds as the fish gets in closer. With Justin and Jason on the leader, they work the fish in from the wash. Jason screams DUSKY! Its a big DUSKY! Sure enough, we put this nice shark on the beach measured just over 7 ft. It was incredibly thick and the girth measurement was close to 4ft! Snap some pictures and with adrenaline pumping i walk the fish out in my clothes and boots for a clean release!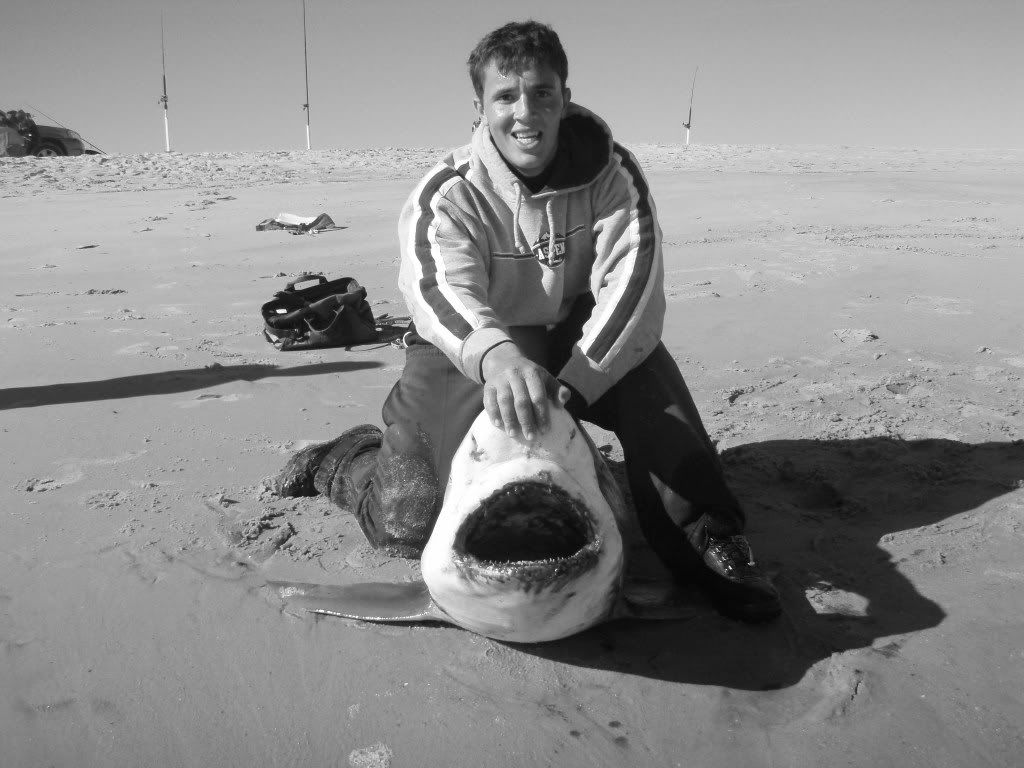 Out of all the sharks, i didnt think we were going to pull out a Dusky. We were all really excited. None of us had ever seen one in person until then…it was great to share that experience. After that we all had a serious adrenaline rush and the cold temps didnt seem to bother us and in no time we were kayaking out our rigs.
The rods sat quiet, until Jason's 12/0 started clicking a few feet at a time. It went on and off for about 20 minutes. The fish unfortunately didnt commit. We had high hopes based on the bite.
As we were packing up, we hear a reel scream. We look around and we cant tell but i thought that it sounded like my 9/0. We wait another second and my 9/0 starts going off. I pick up the rod let the fish take it and set up and i get owned. The fish takes off and my drag was a touch too loose and the spool burns my thumb. I feel it rubbing me on the bar and then the line goes dead. I thought i lost it but i kept cranking anyway and i actually caught up the the fish. After a stop go fight i work the fish onto and over the bar and once it goes in the gut we realize its a BIG ray. Check it out!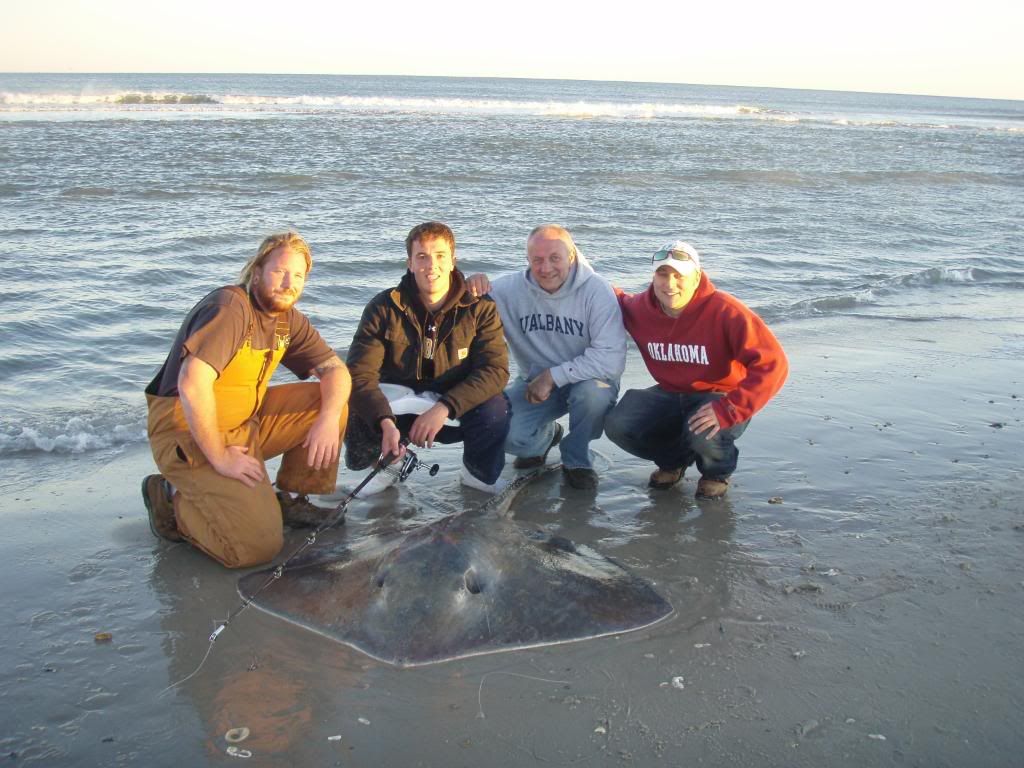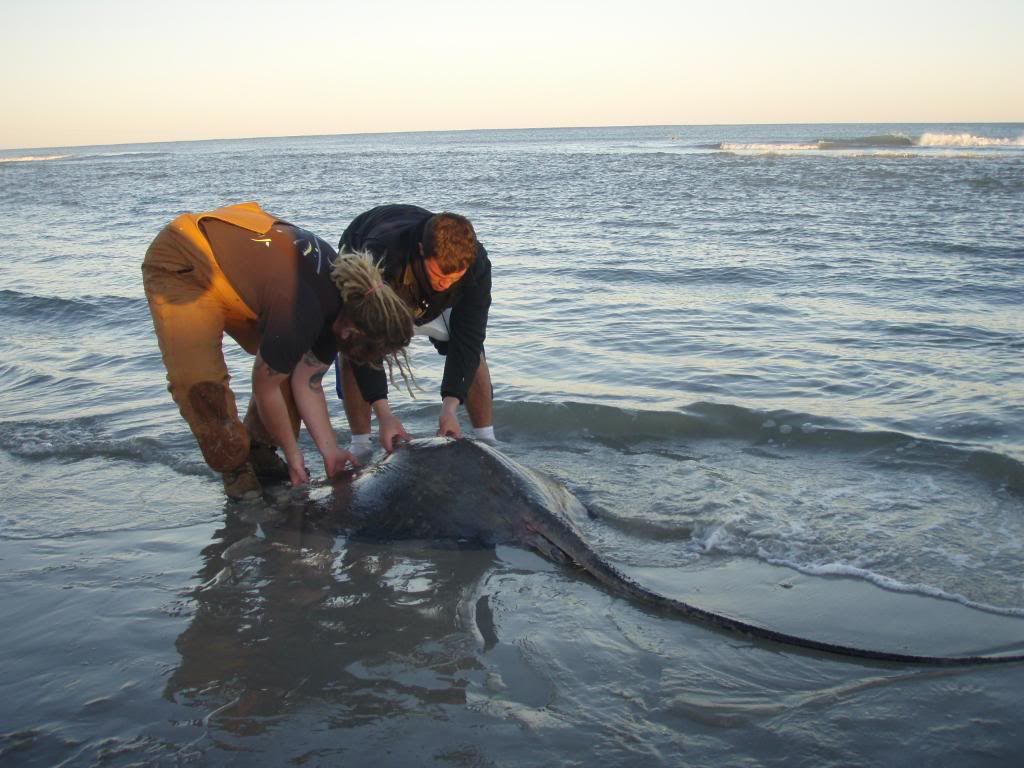 After this we called it a trip. This was an incredible weekend of fishing and all of us had a great time. With personal bests going to NCSHARKER and my dad. I cannot thank NCSHARKER, NCSHARKBABE, and Justin Stewart for being so nice and helping us have a great time.
Keep in mind, there is incredible action video of every fish…it should be up soon.
-Matzy